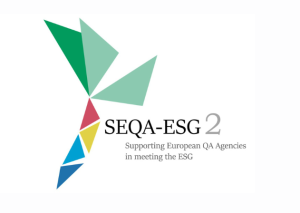 Contacts: atsiatkovska@naqa.gov.ua, markiselova@naqa.gov.ua.  
Start: 01-12-2022 – End: 30-11-2025 
Project Reference: 101061461 — SEQA-ESG2 — ERASMUS-EDU-2021-EHEA-IBA 
Programme: Erasmus+ KA2 
Type of action: ERASMUS Lump Sum Grants 
 
Project coordinator: European Association for Quality Assurance in Higher Education (ENQA), Belgium 
Project partners: 
AHERS – Agency for Higher Education of Republic of Srpska, Bosnia and Herzegovina; 
HEA – Agency for Development of Higher Education and Quality Assurance of Bosnia and Herzegovina, Bosnia and Herzegovina; 
NAQA – National Agency for Higher Education Quality Assurance, Ukraine; 
NEAQA – National Entity for Accreditation and Quality Assurance in Higher Education, Serbia; 
TKTA – Education Quality Assurance Agency, Azerbaijan. 
NAQA role in the project: 
 
NAQA participation in the project is important for the creation of an ESG-compliant QA system, which is one of the Bologna Process key commitments. The project partnership is strong support from ENQA as project coordinator and project partners towards the National Agency's full membership of ENQA. 
In WP2 "Peer counselling activities": NAQA will develop a legislative framework to support and ensure the agency's ESG compliance, including its independence (from ministries and higher education institutions/other stakeholders).  
 
In WP3 "Peer-learning workshops": NAQA will conduct and attend workshops to facilitate the exchange of best practices and the development of solutions for common problems in compliance with ESG. By attending the workshops, NAQA will have an opportunity to strengthen both future bilateral and intra-project cooperation with partners. 
 
In WP4 "Staff mobilities": NAQA will send one staff member to an experienced EHEA QA agency to learn more about appropriate methods and criteria for the recruitment, selection, and training of peer review experts, including addressing issues of impartiality and independence of experts; adequate stakeholder involvement in external quality assurance. 
In WP5 "Action plans for the external review of the involved QA agencies": NAQA will develop an action plan for a review of the ESG compliance. The plan will be based on the experience gained and the work done during the project. 
In WP6 "Impact and dissemination": NAQA will disseminate information about the work and achievements of the project. The agency will support the impact of the project even after its end.