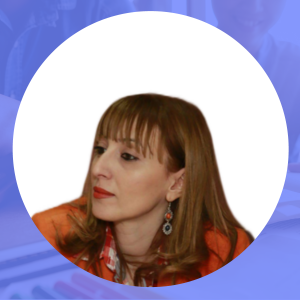 Dr. Irine Darchia is an Associate Professor in Classics at Ivane Javakhishvili Tbilisi State University (TSU) since 1996 and Higher Education Reform Expert (HERE) of Tempus/Erasmus+ National Office Georgia since 2009.
Dr. Irine Darchia studied Georgian and Classical Philology at TSU (Georgia) and Modern Greek Language and Culture at National and Kapodistrian University of Athens (Greece). She did her Internship at the Universities of Jena and Saarbrucken (Germany), defended her dissertations (equivalent to PhD and Habilitation) at TSU (Georgia).
Dr. Irine Darchia teaches classics at TSU (Georgia), but as a visiting professor she has delivered courses and public lectures at the universities of Germany, Greece, France, Italy, Norway and Denmark. She is an author of two monographs, dictionary and over 40 articles published in Georgia and abroad, a co-author of Handbooks, Dictionaries and Encyclopedia in Classical and Modern Greek Studies. Dr. Irine Darchia is a member of International Plato Society and Honorary Member of the Organization for the Promotion of Greek Language.
Since 2005 Dr. Irine Darchia has served as a Head of Quality Assurance Service and Vice-Rector of Ivane Javakhishvili Tbilisi State University, Rector's Adviser at National Defence Academy, TSU and University of Georgia, Vice-Rector of East European University, Head of Higher Education and Science Development Department of the Ministry of Education and Science of Georgia. She is an authorization and accreditation expert at NCEQE (Georgia), SKVC (Lithuania) and AIKA (Latvia).
Dr. Irine Darchia's fields of expertise are: Quality Assurance, Curricula Development, Doctoral Studies, Integration of Teaching and Learning, Lifelong Learning/Continuous Education. She has developed Guideline: "Lifelong Learning at HEI-s", recommendations to the HEI-s, Ministry of Education and Sciences for development of doctoral education, reader and recommendations on quality assurance mechanisms and procedures in the context of National Qualifications Framework, studies on external and internal quality assurance, doctoral education etc. Dr. Irine Darchia took part in development of Georgia's Lifelong Learning Strategy in 2010 and Higher Education Development Strategy approved by the Government of Georgia in December, 2017.
Dr. Irine Darchia speaks English, Russian and Modern Greek languages. She has a command of Ancient Greek and Latin, uses Italian and German for academic purposes.